A Court of Frost and Starlight (A Court of Thorns and Roses) (Hardcover)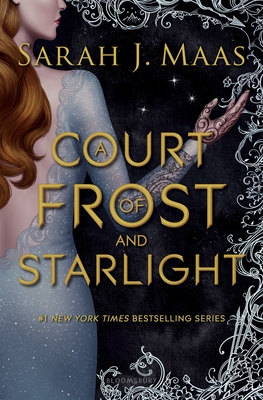 $17.99
Currently not in store. Available to order. Usually Ships in 1-5 Days
Other Books in Series
This is book number 8 in the A Court of Thorns and Roses series.
Description
---
Narrated by Feyre and Rhysand, this bridges the events in A Court of Wings and Ruin and the upcoming novels in the series.
New in the #1 New York Times bestselling Court of Thorns and Roses series, A Court of Frost and Starlight is a glimpse into the lives of Feyre and Rhys as they begin to recover from the war that changed their world.
Feyre, Rhysand, and their close-knit circle of friends are still busy rebuilding the Night Court and the vastly-changed world beyond. But Winter Solstice is finally near, and with it, a hard-earned reprieve. Yet even the festive atmosphere can't keep the shadows of the past from looming. As Feyre navigates her first Winter Solstice as High Lady, she finds that those dearest to her have more wounds than she anticipated -- scars that will have a far-reaching impact on the future of their Court.
About the Author
---
Throne of Glass was Sarah J. Maas's first full-length novel to be published, though she already had a large online fan base, many of whom discovered this fantasy world in its first incarnation on www.fictionpress.com, written when Sarah was just sixteen. Throne of Glass was shortlisted for the Waterstones Children's Teen Book of the Year and has sold in thirteen languages. Sarah lives in Southern California, USA.
You can find out more about Sarah and Throne of Glass at www.sjmaas.livejournal.com.
Praise For…
---
"Passionate, violent, sexy and daring. . . . A true page-turner, A Court of Thorns and Roses will envelop you in its telling, intriguing and delighting you in turn. . . . Not to be missed!" - USA Today on A COURT OF THORNS AND ROSES
"Suspense, romance, intrigue and action. This is not a book to be missed!" - Huffington Post on A COURT OF THORNS AND ROSES
"Author Sarah J. Maas delivers what may be her best work to date in the fairy tale-inspired A Court of Thorns and Roses. Enchanting, spellbinding and imaginative." - USA Today on A COURT OF THORNS AND ROSES
"Simply dazzles. . . . the clamor for a sequel will be deafening." - starred review, Booklist on A COURT OF THORNS AND ROSES
"A thrilling game changer that's fiercely romantic, irresistibly sexy and hypnotically magical. . . . A flawless sequel that will once again leave us desperately clamoring for more, more, more." - USA Today on A COURT OF MIST AND FURY
"[T]he world is exquisitely crafted, the large cast of secondary characters fleshed out, the action intense, and the twist ending surprising, heartrending, and, as always, sure to guarantee readers' return. . . . When has Maas not churned out a best-seller? Her ongoing Throne of Glass series is enormously popular, and this sequel in an equally devoured new series is primed for similar success." - Booklist on A COURT OF MIST AND FURY
"An immersive, satisfying read." - Publishers Weekly on A COURT OF MIST AND FURY
"Hits the spot for fans of dark, lush, sexy fantasy." - Kirkus Reviews on A COURT OF MIST AND FURY
"Some alliances are still dangerous--recruiting monsters to fight the monstrous is always a dicey proposition--and double agents abound. Side characters' romantic storylines are interwoven with the strategizing and even the war, pairing the expanded world with extended action sequences and character revelations, and the conclusion's ramifications will be felt in the next installments." - Kirkus Reviews on A COURT OF WINGS AND RUIN