Med-Surg Success: Nclex-Style Q&A Review (Paperback)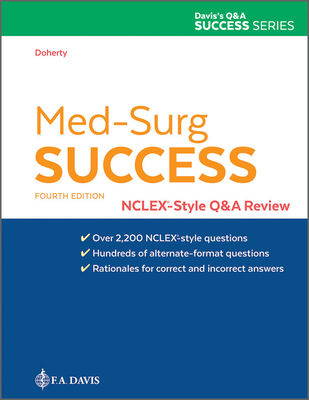 $55.95

Currently not in store. Available to order. Usually Ships in 3-7 Days
Description
---
TWO BOOKS IN ONE
A course reviewNCLEX prep
Assure your mastery of medical-surgical nursing knowledge while honing your critical-thinking and test-taking skills. This popular resource features about 2,200 questions (including more alternate-format questions) that reflect the latest advances in medical-surgical nursing and the latest NCLEX-RN(R) test plan. They organize the seemingly huge volume of information you must master into manageable sections divided by body systems and specific diseases.
Each chapter is a self-contained unit. For each practice question, you'll find the answer, rationales for correct and incorrect responses, and a test-taking tip. The comprehensive exam at the end of each chapter assesses your strengths and weaknesses, identifying areas for further study.
BONUS FREE, 30-day access to Davis Edge NCLEX-RN(R) included with the purchase of a new print book. This online Q&A platform lets you create practice quizzes with more than 10,000 NCLEX-style questions; review proven test-taking strategies; and prepare for the biggest test of your career with simulated NCLEX exams.
See what students are saying online about the previous edition...
A Must-Have "This is a FABULOUS book if you are in Nursing school A "must have" to get through Med Surg and to practice NCLEX questions "--Brooke A., Online Reviewer
BEST thing you can do is use PRACTICE QUESTIONS. "Helped me get an A- in med-surg. They really help."--Athalia, Online Reviewer
Best around. "Worth every single penny for a nursing student "--DanielleRae, Online Reviewer
Great guide. "Love this book. Great guide to learning how to answer NCLEX style questions and learning nursing content."--Andrea K., Online Reviewer
Must for nursing program. "Helped so much before tests Loved that it gave rationales for each answer, not just the right one."--Online Reviewer
Way to go. "If you want to pass med surg, this is the book to buy. It has why the questions are correct/incorrect. My grades went up just by using this book."--Online Reviewer
Use this exceptional resource with your current book or combine it with Janice J. Hoffman and Nancy J. Sullivan's Medical Surgical Nursing text. It follows the same organization as Med-Surg Success, 4th Edition for the ideal teaching and learning experience. Check it out today...
Davis Advantage for Medical-Surgical Nursing, Making Connections to Practice, 2nd Edition