Buttercream Petals: Vibrant flowers for stunning cakes using piping and palette-knife painting (Paperback)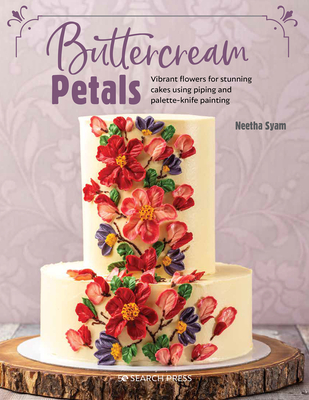 $23.95

On Our Shelves.
Online inventory updates every 24 hours. Call 508.548.5548 to verify.
Description
---
Create beautiful buttercream flowers and leaves using piping and palette knife painting techniques.

Master the art of decorating cakes with buttercream flowers in this stunning book from cake artist and tutor Neetha Syam. Neetha's strong, vibrant style and novel techniques make her designs really stand out from the crowd. In particular, she has developed a unique way of working that involves painting the flowers onto the cake using a palette knife, and the book will include both this and the more traditional piping technique to show how to create a multitude of flowers and how to decorate 10 glorious cakes.

The book includes a materials and tools section and some basic cake recipes, as well as sections on making and colouring buttercream, preparing piping bags, covering and stacking cakes. Projects range from cupcakes to one, two and three-tiered cakes, featuring Neetha's stunning piped and palette-knife painted flowers, leaves and embellishments.

Whether you are a home baker or experienced cake decorator, Neetha's designs will not fail to inspire you to create cakes that look as mouth-wateringly delicious as they taste!
About the Author
---
Neetha Syam is an entrepreneur, cake artist, writer and teacher dedicated to helping people master the art of buttercream cake decorating. She founded Buttercream Petals - Cake Art School (www.buttercreampetals.com) in 2016; since then, she has conducted a variety of buttercream workshops for students across the globe. She has won multiple awards in competitions such as Cake International and Salon Culinaire and is also featured regularly in various cake decorating magazines, journals and food publications.

Neetha is also a screenwriter who has had her work produced by Channel 4, Arts Council England and other production houses in the UK.

Neetha lives in Coventry, UK.