What Does Rain Smell Like?: 100 Fascinating Questions on the Wild Ways of the Weather (Paperback)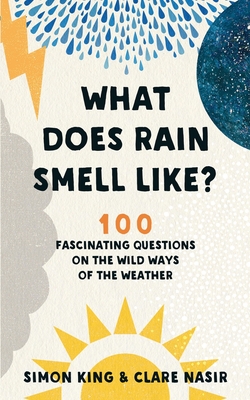 $15.95

Currently not in store. Available to order. Usually Ships in 3-7 Days
Description
---
"Clear, succinct, and engaging answers to every question you could ask about the weather." —Gavin Pretor-Pinney, author of The Cloudspotter's Guide

Why doesn't rain fall all at once? Can technology change the track of a hurricane? What's the weather like on other planets?

Meteorologists Simon King and Clare Nasir reveal the captivating ways the weather works, from exploring incredible weather phenomena (how are rainbows formed?), expertly breaking down our knowledge of the elements (could we harness the power of lightning?), to explaining the significance of weather in history (has the weather ever started a war?), and discussing the future of weather (could climate modification save the planet?).

In What Does Rain Smell Like? Simon and Clare uncover the thrilling science behind a subject that affects us all. They unearth and analyze all aspects of the weather and how it changes our lives through answering our most curious questions about the world around us.
About the Author
---
Clare Nasir is a Met Office trained Meteorologist with a BSc in Maths and MSc in Oceanography. Clare has over 20 years of experience in weather forecasting; operationally and in the media and regularly contributes to weather and climate TV documentaries. She co-presented the acclaimed documentary series Fierce Earth for CBBC and has four children books published

Simon King is a meteorologist and currently presents the weather on BBC TV news, radio, and online. He created, produced, and co-presented the BBCpodcast Under the Weather with Clare Nasir. Simon was previously an operational meteorologist for the Met Office and part of a specialist forecasting unit with the Royal Air Force. Having trained as an RAF reserve officer, he was deployed with the military on operations to the Middle East where he provided crucial weather data and forecasts.