La Crianza Practica de Los Ninos Pequenos, 2nd Ed.: Estrategias Efectivas Y Practicas Para Criar a Ninos Bien Educados Y Ser Un Padre Mas Seguro Volum (Common Sense Parenting) (Paperback)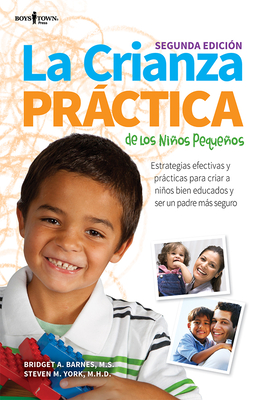 $15.95
Email or call for price.
Description
---
Spanish-speaking parents of children ages 2 through 5 learn positive parenting techniques including how to prevent and correct temper tantrums, use time-out, set appropriate expectations, and staying calm.
Set your child and yourself up for success and learn how discipline can be more about teaching than punishment, and more positive than negative for parents and children. Time and research-tested
Common Sense Parenting(R)
skills have been adapted to meet the needs of parents and caregivers. In this second edition, parents are given enhanced parenting skills with updated parent steps and clearer expectations for how and why to use these steps with children:
Set reasonable expectations based on your child's age, development, and abilities
Give your child the nurturing, love, and praise he or she needs to thrive
Use a parent's version of show and tell to both prevent problems and correct misbehavior
Create plans for staying calm - for you and your child

Parents will benefit from Boys Town's decades of experience in working with kids to help moms, dads and other caregivers enhance their child-rearing skills and develop a calm, skill-focused approach to discipline.
About the Author
---
Bridget Barnes, M.A., has over 30 years of experience as a Health and Human Services professional. Before coming to Boys Town, Bridget worked with at-risk and abused families while pursuing a degree in Family Science, and later earned her Master of Arts in Communications Training and Development. Bridget is the co-author of the two award winning Common Sense Parenting(R) books that have been translated into seven different languages and has been the content expert on numerous parenting products. As an experienced parenting expert and Director of Boys Town's Common Sense Parenting(R) program in Nebraska, Bridget is known for her skill in developing practical and effective parenting strategies. Bridget is well-respected public speaker, a wife, a mother and grandmother.