Jeep (Paperback)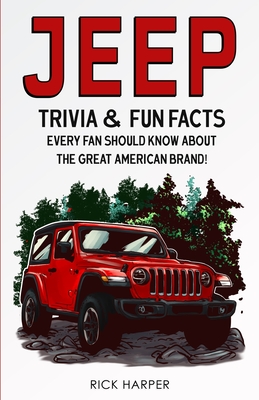 $14.78

Currently not in store. Available to order. Usually Ships in 3-7 Days
Description
---
Uncover The History - Special Launch Price
Are you familiar with how and why the original Jeep was created? The Jeep brand has been around since right before the United States joined WWII. It was created in 1940 and then went into full-scale production for the US Allied forces in Europe.
The Army asked several carmakers for bids when an on-the-road wartime vehicle was needed. Only three carmakers responded. Willys-Overland was awarded the bid in July 1941 to produce 16,000 Jeeps. These Jeeps were to go to Russia and England because the US had not yet entered the war. When the United States did enter the war and used Jeep in mass, General George C. Marshall, US Army Chief of Staff during WWII, and later U.S. Secretary of State, described the Jeep Brand 4x4 as "America's greatest contribution to modern warfare."
This trivia book covers how the Jeep was conceived from the beginning origins of the Jeep up to what Jeep brings to the road today. A series of multiple-choice and true or false questions open each chapter, with the corresponding answers on the page after. A "Did You Know" portion consisting of interesting facts and stories closes each chapter, so you can depart that topic with a stronger connection to life of interesting facts about the Jeep brand we know today.
Let's see how much you know about Jeep's history Get yours copy now