When We Were Vikings (Hardcover)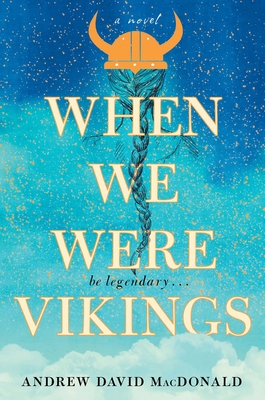 $27.00
Email or call for price.
Staff Reviews
---
The book's narrator, Zelda, is a young woman living with her older brother, Gert. They are on their own due to the death of their mother and the disappearance of their father. As Sara Hines tells me, you can't have an adventure if the parents are around! And this book is a modern day adventure.
Zelda's view of life is through her obsession with Vikings and her processing challenges that are the result of her mother's abuse of alcohol while she was pregnant with her. I use the term processing challenges because Zelda, with the help of the community center, Gert, Annie and her counselor is growing and developing throughout the book and a diagnosis is never definitively stated. In fact, Gert and Zelda being on their own is what gives Zelda the safe environment she needs to be successful. Their living arrangement before their emancipation was not safe for them.
The adventure in the book results from Gert borrowing money to get an apartment for them. The resulting financial struggles and attempts to get rich quick put Gert and Zelda in a dangerous situation. Zelda would like to use her Viking training to save the day.
I loved the characters, the bond between Gert and Zelda, the secondary characters that helped Zelda and Zelda's quest to become a legend, just like the Vikings.
If you liked The Curious Incident of the Dog in the Night-time, you may enjoy When We Were Vikings
— From
Eileen
February 2020 Indie Next List
---
"I could not put this book down. Readers rarely have the opportunity to see the world through the eyes of someone with a disability and experience their lives in a meaningful way. We rarely see people with Down syndrome or fetal alcohol syndrome depicted as truly feeling, flesh-and-blood people who experience love, lust, heartbreak, and disappointment, who face challenges as they strive for their dream. Zelda is my new hero! She is undaunted and unflappable as she grapples with her dreams and life experiences. Your journey with her will be all too brief, but it is one that will stay with you long after you read the last page."
— Rebecca Gottberg, Rediscovered Books, Boise, ID
Description
---
Indie Next Pick for February 2020
Book of the Month January 2020
LibraryReads January 2020 Pick
Bookreporter New Release Spotlight
New York Post "Best Books of the Week"
Goodreads "January's Most Anticipated New Books"
The Saturday Evening Post "10 Books for the New Year"
PopSugar "The 18 Best New Books Coming Out in January 2020"
Book Riot Best Winter New Releases

A heart-swelling debut for fans of The Silver Linings Playbook and The Curious Incident of the Dog in the Night-Time.

Sometimes life isn't as simple as heroes and villains.

For Zelda, a twenty-one-year-old Viking enthusiast who lives with her older brother, Gert, life is best lived with some basic rules:

1. A smile means "thank you for doing something small that I liked."
2. Fist bumps and dabs = respect.
3. Strange people are not appreciated in her home.
4. Tomatoes must go in the middle of the sandwich and not get the bread wet.
5. Sometimes the most important things don't fit on lists.

But when Zelda finds out that Gert has resorted to some questionable—and dangerous—methods to make enough money to keep them afloat, Zelda decides to launch her own quest. Her mission: to be legendary. It isn't long before Zelda finds herself in a battle that tests the reach of her heroism, her love for her brother, and the depth of her Viking strength.

When We Were Vikings is an uplifting debut about an unlikely heroine whose journey will leave you wanting to embark on a quest of your own, because after all...

We are all legends of our own making.
About the Author
---
Andrew David MacDonald grew up in Edmonton, Alberta, Canada. He won a Western Magazine Award for Fiction, was shortlisted for the Canadian National Magazine Award for Fiction, and his work has been anthologized in four volumes of The Journey Prize Stories, collecting the year's best Canadian stories from emerging writers. He has an MFA from the Program for Poets and Writers at the University of Massachusetts-Amherst.

Praise For…
---
"Zelda is a marvel, a living, breathing three-dimensional character with a voice so distinctive she leaps off the page.... When We Were Vikings is the tale of Zelda's quest for autonomy, and MacDonald charts her course admirably." —The New York Times

"Heartwarming and unforgettable." —People

"When We Were Vikings is eye-opening and heart-expanding. The mundane and the fantastic meet in a powerful mix of joy and sadness, as Zelda embarks on a legendary quest to gain her independence and protect what's left of her family. By the last page, you will wish you were part of her tribe, too." –Bryn Greenwood, New York Times bestselling author of The Reckless Oath We Made and All the Ugly and Wonderful Things

"You shall not pass! These are the words of Zelda, but also my advice to any reader who is lucky enough to come across this book. Andrew David Macdonald has written of the finest debut novels I have ever encountered, and I have no doubt that he will become as legendary as the beloved Zelda. This book glows, it shines, and most of all, it's important. Macdonald's humanity and empathy make this a book worth treasuring. I've never, ever read anything like it. Zelda is fresh, she's fearless, and she gives the reader hope, something so rare these days. She is brave, she is determined, and she will stay with you for all your days to come—there is a Zelda inside all of us, and this delicious book will give you the courage to face the things you fear the most. There is no better gift than a book that can change lives." —Richard Fifield, author of The Flood Girls

"MacDonald's first novel is a truly original story filled with love, tragedy, heartache, and triumph, and his heroine is sure to inspire readers to be legendary themselves." —Booklist

"Told with skillful empathy, When We Were Vikings explores a violent world as experienced by Zelda, a girl with a mental disability finding her power. Andrew David MacDonald is a writer to watch, an insightful new voice who invents in ways that feel deeply personal." —Sabina Murray, PEN/Faulkner Award-winning author of The Caprices

"In this engaging debut novel, MacDonald skillfully balances drama and violence with humor, highlighting how an unorthodox family unit is still a family... With Zelda, he's created an unforgettable character, one whose distinctive voice is entertaining and inspiring. Will appeal to fans of Eleanor Oliphant Is Completely Fine and The Curious Incident of the Dog in the Night-Time. An engaging, inclusive debut." —Kirkus Reviews

"In When We Were Vikings, MacDonald has written one of the most unique heroines I've ever read. You can't help but root for, care about, and thoroughly enjoy Zelda and her quest to be legendary. A most-welcome and wonderful debut." —Tyrell Johnson, author of The Wolves of Winter

"The guileless Zelda, who narrates, is a joy... MacDonald avoids oversentimentality and a too-neat resolution, instead depicting Zelda's desire to shape her own life and be the hero of her own legend with frankness and humor. Readers will be inspired by the unforgettable Zelda." —Publishers Weekly

"A quirky, heartfelt novel about an unlikely heroine — a woman who survived fetal alcohol syndrome. Her journey will leave you wanting to embark on a quest of your own." —Saturday Evening Post

"A sweet, funny, dark, roller coaster ride of a book, about two unforgettable siblings trying to help each other grow up. Zelda is an entirely original character, a young woman with a cognitive disability, trying hard to navigate life on her own terms. But it's her loving thug of a brother, Gert, that stole my heart. A wonderful book that's less a novel than a movement, proving we can all be heroes of our own stories." —Lisa Gabriele, bestselling author of The Winters

"In this well-written and compelling novel, MacDonald conveys Zelda's particular challenges and succeeds in bringing her to life." —Library Journal

"It is rare that a book comes along with a character like Zelda, whose singular vision of the world transforms your own. Noble, chivalrous, wise, and true, Zelda undertakes a heroic quest that will leave you breathless and profoundly changed. When We Were Vikings is a triumph. It made my heart sing, full-throttle, like a Viking in an opera." —Jessica Grant, author of Come Thou, Tortoise

"With Zelda's unique narrative voice in my head, When We Were Vikings made me laugh, cry, and chew my fingernails down to stubs in anticipation of what would happen next. Moving, memorable, and utterly original." —Seira Wilson, Amazon Book Review