Once More We Saw Stars: A Memoir (Large Print / Paperback)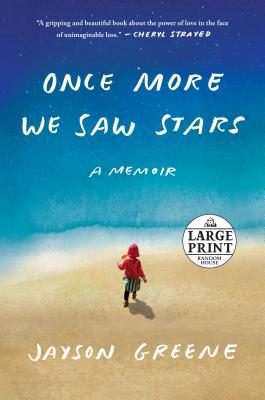 Call for price: 508.548.5548
It is unlikely that we will be able to order this item. Please call 508.548.5548.
May 2019 Indie Next List
---
"Some memoirs transcend the author's experience and become universal—I always thought of those as the good ones. Then I read Jayson Greene's memoir of loss and grief and was forced to confront the fullness of his individual humanity in a way I hadn't experienced before. Grief is distinctly personal and Greene's story of the death of his two-year-old child is simply unfathomable to me, yet his honesty and willingness to sit in the fearfulness of this new life resonated deeply. Once More We Saw Stars is a wonderfully written memoir that connects on the most basic human level."
— Michelle Cavalier, Cavalier House Books, Denham Springs, LA
Description
---
"A gripping and beautiful book about the power of love in the face of unimaginable loss."
 --Cheryl Strayed

For readers of The Bright Hour and When Breath Becomes Air, a moving, transcendent memoir of loss and a stunning exploration of marriage in the wake of unimaginable grief.

As the book opens: two-year-old Greta Greene is sitting with her grandmother on a park bench on the Upper West Side of Manhattan. A brick crumbles from a windowsill overhead, striking her unconscious, and she is immediately rushed to the hospital. But although it begins with this event and with the anguish Jayson and his wife, Stacy, confront in the wake of their daughter's trauma and the hours leading up to her death, Once More We Saw Stars quickly becomes a narrative that is as much about hope and healing as it is about grief and loss. Jayson recognizes, even in the midst of his ordeal, that there will be a life for him beyond it--that if only he can continue moving forward, from one moment to the next, he will survive what seems unsurvivable. With raw honesty, deep emotion, and exquisite tenderness, he captures both the fragility of life and absoluteness of death, and most important of all, the unconquerable power of love. This is an unforgettable memoir of courage and transformation--and a book that will change the way you look at the world.
About the Author
---
JAYSON GREENE is a contributing writer and former senior editor at Pitchfork. His writing has appeared in The New York Times, Vulture, and GQ, among other publications. This is his first book. He lives in Brooklyn with his wife and son.
Praise For…
---
"His writing... is a revelation of lightness and agility... A miracle... A narrative of grief and acceptance that is compulsively readable and never self-indulgent."
—The New York Times

"Beautiful…heartbreaking….an answer to the question: How does one survive such a devastating tragedy…a story not just of loss, but of remarkable love…life-affirming…luminous."
—Washington Post

"[Greene] unspools his pain on paper...We're drawn to stories of survival because they prove that pain and loss don't define us, but instead add a new tenor to our lives: appreciation, sadness, or faith...Suffering pulls apart life's tapestry,yes, but then refashions it into something fundamentally new... He discovers an opening to this new universe, in which suffering is tantamount to being human."
—Elle

"Once More We Saw Stars isn't about the tragedy that befell a family—although Greene recounts with exquisite detail how he felt in the tragic days that ended his daughter's life. The memoir is instead a story of a couple who faced one of the worst things imaginable and still continued to choose life."
—BookPage [starred review]

"A gripping and beautiful book about the power of love in the face of unimaginable loss."
—Cheryl Strayed

"How do we wrest beauty out of searing pain? How, in the face of the most profound grief and sorrow, do we search for meaning and find it? Jayson Greene does just that in this soul-affirming book. Once More We Saw Stars is a stunning human achievement as well as a literary one."
—Dani Shapiro

"Jayson Greene's Once More We Saw Stars attains flight in a language born of sheer necessity, that of bridging the gulf between daily life and the unnamable."
—Jonathan Lethem
 
"In Once More We Saw Stars, Jayson Greene crystallizes the bravery required for parenting, the insanity within grief, the struggle and haven of marriage, the durability of love in all its forms.  This is a book about how we make sense of suffering and what it means to be a family.  It's funny, lucid, and deeply generous—proof that a masterful writer can make from his own specifics a universal story with lessons for us all."
—Lucy Kalanithi
   
"This stunning book reminds us that nothing—not even devastating grief—can define us as much as our deepest loves. A must read."
—Kate Bowler, author of Everything Happens for a Reason