Anselm Kiefer: Studios (Hardcover)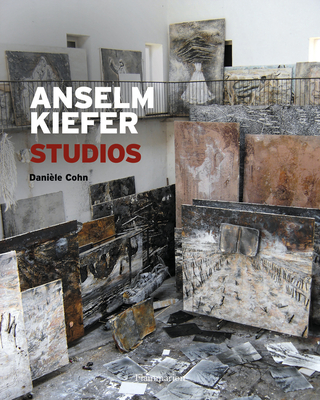 $95.00
Email or call for price.
Description
---
Danièle Cohn, who has worked alongside Anselm Kiefer for many years, explains the central role the artist's studios play in his artistic process. To enter a painter's atelier is a rare privilege and the stuff of dreams, as if access to this intimate place were the key to the very act of creation. Entering an atelier allows us to see, in situ, the creative process in action, in the present; we are admitted into the space and virtually participate in the artistic act by our very presence, rather than simply observing from the outside. In this monograph, Danièle Cohn reveals how Anselm Kiefer's ateliers—and his organization and spatial distribution of them—are essential to his artistic activity as a painter and sculptor. While they serve as production areas and storage spaces, artists' studios are also physical representations of the mind and memory of an artist, where living and working spaces combine. This book takes the reader on an exploration through Kiefer's various ateliers and examines the crucial role they have in the creation of his works. From the attic of a former school or a disused brickyard in Germany, via an atelier in the rural surroundings in the south of France or the urban setting of the Marais in Paris, to his current studio on the outskirts of the French capital, we discover how Anselm Kiefer's work spaces have impacted his art.
About the Author
---
Danièle Cohn is a professor of visual arts and philosophy of art at the Sorbonne in Paris. She curated an exhibition on German thought and painting at the Louvre. She was a Getty Research Institute scholar and visiting professor at Freie Universität Berlin.
Praise For…
---
"Anselm Kiefer: Studios allows us a glimpse into a series of Kiefer's workspaces…actually, its much more than a glimpse, because the photographs in this 296-page book are so well executed that they really to transport you there and put you into a closer proximity with the artist's process…Judgement of the work of art becomes besides the point, because the book allows you to simply be immersed into the process of creation, into the meditative here and now." ~Style Zeitgeist

"To enter a painter's studio is a rare privilege and the stuff of dreams, as if access to this intimate place were the key to the very act of creation; we are admitted into the space and virtually participate in the artistic act by our very presence, rather than simply observing from the outside. In Anselm Kiefer: Studios, Danièle Cohn reveals how Anselm Kiefer's studios —and his organization and spatial distribution of them—are essential to his artistic activity as a painter and sculptor." ~ArtDaily.org