The No-Stress Potty Training Solution: Say Goodbye to Diapers And Teach Your Baby or Toddler to Use the Potty and Develop Their Independence (Paperback)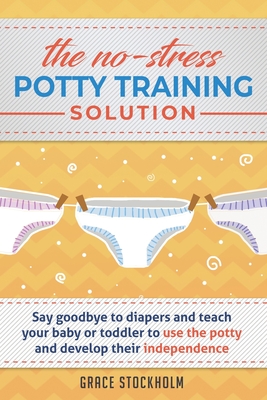 $14.97

Currently not in store. Available to order. Usually Ships in 3-7 Days
Description
---
Why more than 80 percent of children experience setbacks in potty training and how to do it right...
Does every time you change diapers remind you of an all-out war where your child starts hitting and kicking?
Do you recognize the horrible blistery diaper rashes?
Plus you feel how changing between eight to ten diapers every day burns a deep hole in your pockets. According to the National Diaper Bank Network, you spend $70 to $80 per month or about $900 a year on diapers.
Yet, you feel your stress levels rising just by thinking about potty training your child even though you know you have to start someday.
You are not alone. In 1957, the average age to start potty training was 11 months and 90% of children were dry by the age of two. Today, it is not until the age of four that most children are reliably dry.
As a consequence, teachers face a huge rise in the number of children between three and seven years old still wetting themselves during the school day.
But potty training doesn t need to be the scary battleground you think it is.
If you know the right attitude, your toddler can be diaper free with no stress involved.
This is only a select sample of what you ll discover in The No-Stress Potty Training Solution
5 of the most common potty training myths demystified (including case studies) Everything you need to know about staying dry during the day vs. staying dry during the night When is the right time to take off the diapersWhich toilet training strategy is the best plus the pros and cons of common strategiesWhy your child might be ready and you aren't (including a checklist for parents) How to avoid inventive nicknames such as pee pee, cookie and broccoli and teach your kid about their body parts without shame Red flags to distinguish between accidents and regression The do's and don'ts of potty training that are more complex than just common sense 10 essential items you need to have at home before you start the training The common poop problem and how to deal with it
And much more.
As a free bonus, you ll get three 30 minutes affirmations to help your child become comfortable with potty training.
Potty training can be nerve-wracking, especially if you are not a stay at home parent. Yet, these tips are simple and concrete enough to work for your childcare provider. While they do the work during the day, you will support your kid at home and during the weekend.
Using these strategies will help to convince even the most stubborn youngsters that they can outgrow their diapers.
Successfully potty training will open a whole new world for you and your tot.
So stop wasting time and money on diapers and discover how simple potty training can be and how it can strengthen your relationship with your child.
If you want your child to master the potty training rodeo without unnecessary stress, then scroll up and click "Add to Cart" right now.