1000 Ninja Foodi Ultimate Cookbook for Beginners: Quick & Easy Air Fry, Broil, Pressure Cook, Slow Cook, Dehydrate, and Tendercrispy Ninja Foodi Recip (Paperback)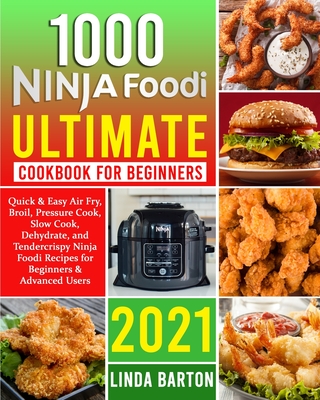 $12.99

Backordered. Please call 508.548.5548 for more information.
Description
---
Welcome to the 1000 Ninja Foodi Cookbook
You are going to save your precious time and money regarding cooking your favorite dishes
You are going to have your nutritional and delicious recipes in a short of time
You will change your whole life by using a Ninja Foodi, which is really the most multi-functional kitchen appliance in this world now
Everyone should have one This book is the perfect companion of your Ninja Foodi cooking
The amazing Ninja Foodi is an all-in-one kitchen appliance like that no other, that is designed to replace not only an Instant Pot and CrockPot but also an Air Fryer The meticulously crafted design of this single appliance allows you to Saute, Broil, Bake, Roast, Pressure Cook, Steam, Slow Cook and even Air Fry All under the same hood.
This Ninja Foodi can accomplish this feat, thanks to the crisping lid that comes attached with the Foodi itself. When needed, this particular lid alongside the Air Crisp Function and Crisping Basket allows the users to seamless Air Fry their dishes and give them a satisfying crispy finish
Throughout the first chapter of the book, you will find that I have discussed the core concepts of the Ninja Foodi in greater details, so if this is your first time diving into the world of Ninja Foodi, this is the perfect opportunity to get the hang of this amazing device
And once you are done with the introduction and chapter 1, feel free to explore the amazing Ninja Foodi recipes found in this booklet and let your creativity go wild For the recipes, you will find:

Delicious Breakfast Recipes

Healthy Vegetarian And Vegan Recipes

Flavorful Chicken And Poultry Recipes

Savory Beef and Lamb Recipes

Great Pork Recipes

Graceful Seafood And Fish Recipes

Tasty Dessert Recipes

Nice Snacks Recipes

With so many mouth-watering Ninja Foodi recipes, I believe you will have your favorite ones, and make your life be more colorful

What are you waiting for? Click the "BUY NOW WITH 1-CLICK BUTTON" now