Signing with Christina Laurie:
The Lobsters' Night Before Christmas
Saturday, November 30
1:00 pm - 2:00 pm
189 Main Street, Falmouth MA
---
Join us on Small Business Saturday for a special signing with Christina Laurie, author of C is for Cape Cod and now The Lobsters' Night Before Christmas.
Creatures of the ocean celebrate Christmas Eve in an undersea retelling of "A Visit by St. Nicholas" by Rev. Clement C. Moore. Under the waves and surrounded by swaying ocean eel grass, Sea Santa makes his yearly Christmas journey. Pulled in his clamshell sleigh by his eight faithful minnows, beautiful watercolor paintings illustrate his visit to a family of lobsters. Told in sweet and clever rhyme, The Lobsters' Night Before Christmas combines a holiday classic with delightful newness. After the poem, children can learn fun facts about lobsters, such as what they look like, what they eat, and how they molt. See if you can find the lobster hiding in the eel grass throughout the book.
Event date:
Saturday, November 30, 2019 - 1:00pm to 2:00pm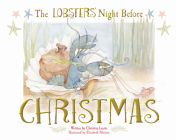 $16.99
ISBN: 9780764358265
Availability: On Our Shelves. Online inventory updates every 24 hours. Call 508.548.5548 to verify.
Published: Schiffer Kids - October 28th, 2019
---