By

EightCousins
26 / May / 2021
Nathaniel Philbrick
Virtual Book Talk Sponsored by Museums on the Green
Thursday, June 17
7:00pm
FREE, with Registration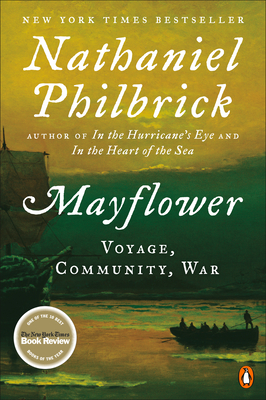 The story of the Plymouth Colony began in peril and ended in war. When the Mayflower's religious refugees arrived in Plymouth Harbor, the Native Americans were facing their own crisis. Diseases spread by European fisherman were killing them. In the beginning, the Wampanoag's charismatic and calculating chief, Massasoit, and the Pilgrim's pugnacious military officer, Miles Standish, maintained a fragile working relationship between the groups. But within decades, New England erupted into King Philip's War, a savagely bloody conflict that nearly wiped-out English colonists and natives alike. This is a story of adventures and misadventures. Mistakes and missteps. Human actions and reactions. Religious extremism and racial hatred. Treachery, bribery, bungling, coverups, and constantly shifting alliances. The story of the Plymouth Colony spans almost six decades. This is the story you've never heard before.
In June 2020, a newly expanded trade paperback edition of Mayflower was released to commemorate the 400th anniversary of the Mayflower's arrival in Plymouth.
Virtual, free, and open to the public.
https://museumsonthegreen.org/event/virtual-talk-mayflower-with-nathaniel-philbrick/
For more information, please contact Museums on the Green directly.
Event date:
Thursday, June 17, 2021 - 7:00pm
Event address:
Falmouth Historical Society & Museums On The Green VIRTUAL EVENT
Post Office Box 174

$18.00
ISBN: 9780143111979
Availability: Currently not in store. Available to order. Usually Ships in 3-7 Days
Published: Penguin Books - April 24th, 2007
---