Story Time
Tuesday, July 3rd
10:30 AM
Ages 2-5
You've heard the Beatles. You've seen the Monkees. Ladies & Gentlemen...introducing the Cows. Join this band of bovines as they embark on their Udderly Crazy World Tour of music, merriment, mishaps, and cow farts.
The Cows Go Moo is a rhyming picture book for children who love to laugh, sing and dance The book and the free song download is full of humorous lyrics and illustrations that children of all ages will be crazy about. Along the Cows journey, you'll see them in the snow, on the beach, and in many famous places around the world, such as Stonehenge, Easter Island and The Great Wall of China. The tour is about to kick off Are you ready to join us? Ok, let's get mooving!
When: Tuesday, July 3rd, 10:30 AM
Where: Eight Cousins Bookstore, 189 Main Street, Falmouth MA
What: Story time
About the author: Jim Petipas has been working with teenagers for over 35 years. First as a volunteer youth worker and then as a youth pastor. He is currently an adolescent and family counselor. Jim is also a musician and artist. As a result of Jim's love of art and music he started his own indie book publishing company and recorded the song, which is the soundtrack to his first children's picture book, The Cows Go Moo! Jim, his wife, two daughters and dog, Earl, live northwest of Boston, Massachusetts.
Event date:
Tuesday, July 3, 2018 - 10:30am to 11:30am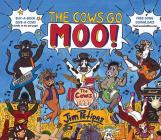 $19.00
ISBN: 9780997607864
Availability: Currently not in store. Available to order. Usually Ships in 1-5 Days
Published: Boardwalk Books - May 2018
---