This week at Eight Cousins . . .
On Tuesday, we had a chance to review our space.
It is simply space as there is nothing (of ours) in the store at this time. We lost around 95% of inventory and around 50% of our shelving in the flood.
For anyone wondering what happened and why the damage was so severe, here is a brief explanation. The water spread across our ceiling, creating pools as the tiles started to sag from the weight. The tiles then broke, probably at varying intervals throughout the night. It wasn't linear, or horizontal, but cube damage: ceiling to floor across the middle of the store at approximately 12 x 36 square feet.
All the books not hit directly were starting to warp before we found them. When we say that everything is gone, it's not entirely hyperbolic. There is also damage to the building, which is why we are waiting to reopen.
Now we have only space, which is funny in a way, because we're always talking about what we would do if we had more space. The space feels different now. It is a decent size and it definitely has a lot of potential.
We've been discussing various ways to re-design the space for our store. There are certain areas that could flow better. It's been interesting to look at a blank layout and debate about new ways to fill it. Our Gift Buyer cut out tiny pieces of paper to scale to represent shelving. Tweezers required. We've also been reading the fantastic feedback you've provided on our two-question survey. It's gratifying to see requests for more reading areas, because we've been talking about the same idea.
Our reopening date is not yet set, but we're getting closer to having a plan. More information to come in the next couple of weeks.
We are happy to announce that we now offer limited pick up hours for book orders. The Wood Lumber Company has been kindly sheltering us as we reassemble.
Find us in the Wood Lumber
Millwork Showroom
Conference Room
Tuesdays 1:30-4:00 pm
and
Thursdays 2:30 - 6:30 pm
81 Locust Street, Falmouth MA
Please note that we will only have books that have been pre-ordered.
We have added the "In-store pickup" option back to the checkout page on our website.
Shipping is still an option if you prefer to have your book(s) mailed.
We will call you when your book arrives. Please, please, please wait until you receive a call!
If you're looking for great new books, check out our reviews below.
Finally, we would like to thank everyone at the
Green Eyed Daisy
for hosting a lovely evening on Thursday. With neighbors like this, we are looking forward to reclaiming our space on Main Street!
~ Eight Cousins
PS Our 508.548.5548 phone number is now working!
Upcoming Author Events schedule:
February 8 at 1 pm
Tova Mirvis, author of The Book of Separation at the Falmouth Jewish Congregation
February 20 at 2 pm
Richard Thomas, author of Why Bob Dylan Matters at the Museums on the Green
Featured books:
For sentimental readers, and those who love romance . . .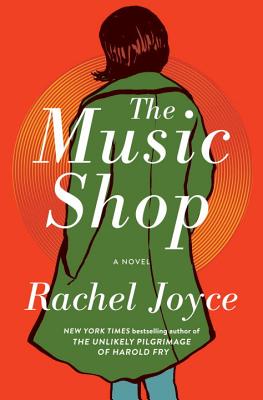 The Music Shop
Rachel Joyce
$27.00
For Frank, vinyl records will never die. His stubborn adherence to vinyl baffles the suppliers who are promoting the new medium, CDs. It is 1988, and Frank's music shop on a worn-out street in a suburban location, is filled with vinyl--all shapes, artists, and genres. Frank has an unusual gift: by carefully listening to his customers, he is able to select the exact artist and piece of music they need at a particular point in their lives. Frank is wonderful at connecting with his customers, but is unable to solve his own, personal issues. That is until a beautiful but elusive woman enters his shop. Suddenly, Frank's world is upended.
I loved this book for many reasons. One primary reason is that I saw Frank's ability to select the appropriate piece of music akin to what we as booksellers do with our customers. Few things bring us booksellers greater satisfaction than connecting a customer with a special book, especially if it's one of our favorites! Rachel Joyce is the author of another book I loved, The Unlikely Pilgrimage of Harold Fry.
For readers who love a great page-turner thriller . . .
The Woman in the Window
A.J. Finn
$26.99
The narrator, Anna Fox, is an agoraphobic woman who lives her life through her neighbors whom she watches from her front window. She communicates via e-mail with her estranged husband and daughter, who no longer live with her in their Manhattan townhouse. Other than those connections, she seems to be totally alone. With echoes of Hitchcock's Rear Window, Anna views what she believes is a murder in the house across the street. Just when you, the reader, think you've solved the mystery, the book takes an unexpected turn--and then another and another. Anna, who drinks too much wine and lives through old movies, is an unreliable narrator--yet I found myself cheering for her in the end.
This book kept me up a few nights, and I had to find out what happened, even though it took me until 4 a.m.! For readers who enjoy a fast-paced, well written, cleverly crafted suspense story--The Woman in the Window will not disappoint.
And now for something really different . . .
The Immortalists
Chloe Benjamin
$26.00
Four siblings, ages 6 to 13, track down a fortune teller who individually predicts for each child the date of their deaths. Spooked by this prophecy, some share the date, others keep it a secret. Their date, however, hangs over each child and influences them throughout adulthood.
The Immortalists is divided into four sections, one for each of the characters, whom readers get to know quite well. The questions posed in this remarkable book have no definite answer: How would we behave if we knew the date of our death? Would we live our life to the fullest, taking risks that we normally would avoid? Would we believe the date or try to circumvent the inevitable? Would you even want to know the date?
Reviewers have called The Immortalists a book about living, not about dying, and I agree. It's also a tale of siblings' love and affection for each other--even when they are estranged. It's a family saga, with all the joy and pain a family evokes. It is a book like no other I've read recently--and another book that kept me reading until the wee hours.

Call for price: 508-548-5548
ISBN: 9780812996685
Availability: Hard to Find
Published: Random House - January 2nd, 2018
---

$26.99
ISBN: 9780062678416
Availability: Currently not in store. Available to order. Usually Ships in 1-5 Days
Published: William Morrow - January 2nd, 2018
---

$26.00
ISBN: 9780735213180
Availability: Currently not in store. Available to order. Usually Ships in 1-5 Days
Published: G.P. Putnam's Sons - January 9th, 2018
---