Eight Cousins is excited to offer SIGNED copies (while supplies last) of Jan Brett's newest book COZY IN LOVE!
Order Your Copy Below
About COZY IN LOVE:
"Filled with descriptive candor and Brett's riveting, distinctive illustrative style, the kindhearted musk ox bull Cozy returns in this exciting companion story that proves how strength of heart is beloved by all… [Cozy's] quick thinking and care for his friend [will impress] readers with the value of acting out of compassion without the ambition for attention… Awe inspiring detail of the frigid Alaskan landscape and its creatures will enchant readers." -School Library Journal
"This moving tale of gentle kindness serves as a clarion call for anyone searching for a book about creating you own community in times of trial… For readers who haven't a musk ox of their own to snuggle up with, this tale proves just as cozy." -Kirkus Reviews
Set in Alaska, COZY IN LOVE (G.P. Putnam's Sons; on-sale November 8, 2022) is a gorgeous reimagining of the classic folktale, The Crow and the Pitcher. No one does winter like Jan Brett. The Alaskan landscape and animals will delight teachers librarians, and kids. After a defeat in a battle of strength, Cozy is convinced he'll never impress radiant Lofti. But while he is sulking, he learns of a bigger concern—his friend Bella the beluga whale is about to get trapped in fast forming ice. Cozy races to the inlet where Bella is in trouble. Luckily, he thinks of a new way to use his strong legs and tough horns to help save her. Cozy, the lovable musk ox, shows how helping your friends is always the right thing to do— no matter who is watching. Brett's art is inspired by expeditions to Alaska where she encountered musk oxen in the Matanuska Valley, horned puffins playing at a waterfall on Fox Island in Resurrection Bay, and a charming pod of beluga whales carrying seaweed on their heads in Turnagain Arm.
About Jan Brett:
Jan Brett lives in a seacoast town in Massachusetts close to where she grew up. During the summer, her family moves to a home in the Berkshire Hills. She is a New York Times #1 bestselling author/ illustrator, of over 40 picture books with over 44 million in print, and has brought to life lovable characters and imaginary backdrops for children for more than 40 years. Her illustrations are adored for their classic beauty and vibrant, lifelike images of animals, landscapes, and flourishes from cultures around the world. As a child, Jan Brett decided to be an illustrator and spent many hours reading and drawing. She says, "I remember the special quiet of rainy days, when I felt that I could enter the pages of my beautiful picture books. Now I try to recreate that feeling of believing that the imaginary place I'm drawing really exists. The detail in my work helps to convince me, and I hope others as well, that such places might be real.
While Jan is most known for her children's books, she is also an award-winning breeder of ornamental fowl (fancy chickens!). Some of her best book ideas come from other interests including extensive exploration of the natural world, marathon training, and while listening to the Boston Symphony Orchestra, where her husband is a musician.
Her work has been chosen as "Best Children's Books of the Year" by The New Yorker, Parents, Redbook, and others. In 2021 she received the prestigious Regina Medal for her continued distinguished contribution to children's literature from the Catholic Library Association (CLA).
---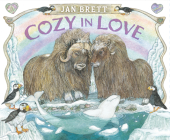 $19.99

ISBN: 9780593109854
Availability:
On Our Shelves.
Online inventory updates every 24 hours. Call 508.548.5548 to verify.
Published: G.P. Putnam's Sons Books for Young Readers - November 8th, 2022
---