Tasha & Lola's Book Corner
Counting is one of Lola's (27 months) favorite activities these days. Whether it's counting real butterflies in the garden, or snuggling up together and counting the butterflies on the page in I Am a Bunny (a long-running favorite of Lola's), she loves to point to and count objects.
In June, we attended a story time with Steve Light, author of Have You Seen My Dragon?, a picture book in which a young boy counts objects from 1-20 as he searches for his dragon through the city. Lola is a bit shy, but she quietly counted along with the author as he read his book.
Have You Seen My Dragon? combines two of Lola's current favorite things: counting and dragons, as well as one of my favorite things: great art. I always enjoy having a prop to assist me while I'm reading, and because we have the Folkmanis Baby Dragon Puppet at home, I use it to help me read the story.
Ask the Eight Cousins staff . . .
If you could spend the perfect Cape Cod summer day with an author or character, who would it be?
I would love to spend a lazy summer afternoon with Atticus Finch. We'd sit in rocking chairs on a shady porch, sipping ice-cold lemonade. He would be dressed in his usual light-weight summer suit, white shirt, and tie--looking as cool as a cucumber. I don't think I'd be able to take to the heat as well as this Southern gentleman!
~ Mary Fran
I would spend the day hanging out with Bartimaeus the Djinn from Johnathan Stroud's Bartimaeus trilogy. Bartimaeus possesses a wealth of experiences, dating back to the dawn of human civilization, and getting to talk to him about past events as well as patterns he has observed throughout human history would make for an incredibly satisfying summer day. Also he's a total sassmasster, and I think I could learn a thing or two.
~ Graham
I would spend the day with Marcus Yallow from Cory Doctorow's Little Brother and the sequel Homeland. Marcus is an Internet vigilante and takes on the US government when his rights get violated. Not only that, but throughout the books the reader gets to understand he is a really loyal friend and someone who could be a really fun guy, when not running from the cops. I would love to go for a day at the beach with him, and see him truly relaxed.
~ Julien
I'd love to spend the day with Robert Frobisher, the whiny, egocentric musician from David Mitchell's Cloud Atlas. Yes, he is incredibly annoying and pretentious, but his snark is always spot on, and I think it would be worth indulging that snark for 24 hours just so I could see his method of composing music in action-he transforms everyday background noise into sheer orchestral genius in his head. A summer day on Cape Cod would provide boundless inspiration for him!
~ Cara
I hope long distance calling is included on my plan, because I want to get in touch with Ford Prefect, from Douglas Adams' Hitchhiker's Guide to the Galaxy (he could be anywhere!). Either he has a great nose for adventure or somehow it finds him, but there's no telling where we would end up at the end of the day. But hey, as long as I've got my towel, I know I can gallivant with ease - I figure I'm covered.
~ Greg
I'd choose to spend the day with Cheryl Strayed, the author of Wild. I would be interested in talking to anyone who hiked the Pacific Crest Trail and hearing stories, but what makes Cheryl Strayed so amazing is that she did it alone never having backpacked seriously before. And while her book lays out most of the adventure, I'm sure she also some more great anecdotal stories that weren't written. Maybe we'd have our conversations on a trail through the woods or up a mountain. I'd love to see her hiking and try to keep up with her!
~ Cassidy
I'm lucky, because one of my favorite authors is actually doing an event at our store this summer. It's difficult to have meaningful conversations when trying to host an event, but maybe I'll have time to ask his opinion about the current state of publishing in children's books. Nevertheless, although discussing publishing and children's books at the bookstore does sound like a fantastic day, if I had to pick a character to go to the beach with -- this is Cape Cod after all -- I think I'd choose Jarvis. Jarvis obviously knows the ocean well; he'd make an excellent tour guide. Even if it rains that day, I know he'd be prepared to offer fantastic performances and endless entertainment. Clearly, he's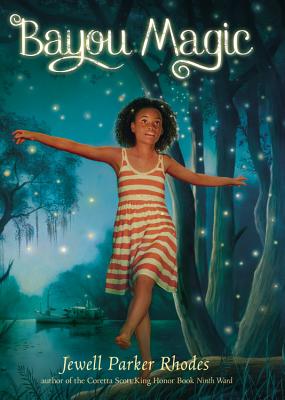 intelligent and he knows lots about history, art, literature, music (check the endpapers), so he'd probably have many enlightening contributions to the conversation.
When I was a kid, one of my favorite things to do here in the summer was hang out at the beach and look at the stars. Maddy, from Bayou Magic, has the ability to summon fireflies, which would make the evening that much more awesome!
~ Sara
If I could spend a summer day with any book character it would be Jarvis the octopus from Octopuppy by Martin McKenna. Jarvis is spunky, hilariously over-the-top, and yet not afraid to be himself. Not to mention the fact he can simultaneously juggle fire, do card tricks, play piano and the drums, all the while performing ballet.
~ Livvy
Whether traveling to far-away places
Or planting Lupines beside the sea,
Spending a summer day with Miss Rumphius
Would be an ideal day for me.
~ Cathy v
Given the opportunity, I would love to spend a day with Luna Lovegood, from the Harry Potter series; not because she has magical abilities, but simply because of her outlook on the world. Luna is such a carefree, open minded, free spirited character, and I feel like I could really learn a lot about life from her. I feel like an afternoon spent with Luna would help me relax, and remind me to see the wonders and oddities one misses when taking life too seriously. What I love about
Luna's character is that she's all about looking at odd things seriously, and interpreting serious things oddly. For similar reasons, during my afternoon with Luna, I'd like us to visit Curious George from the classic picture books by H. A. Rey. That little monkey just seems like a ball of fun, and meeting him would put a smile on anyone's face!
~ Ben