Beyond the Bright Sea

Lauren Wolk


The Summary

Crow has lived her entire life on a tiny piece of the starkly beautiful Elizabeth Islands off the coast of Massachusetts--a small spit of land caught in the long shadow of the abandoned Penikese leper colony. Her only companions are Osh, the man who rescued her from a tiny skiff as an infant and raised her, and Miss Maggie, their neighbor across the sandbar. But it isn't until the night in 1925 when a mysterious fire appears across the water that an unspoken question of her own history forms in her heart and an unstoppable chain of events is triggered. Using her bravery and perseverance, Crow must follow clues that lead not only to personal treasures, but also to uncovering her lost identity and, ultimately, understanding the true meaning of family.


The Review

Beyond the Bright Sea starts slowly, gentle waves cascading on the rocky shore. It builds to a dramatic storm of high emotion -- fear, bravery, love -- before subsiding back to calm. It reads like a perfect Cape Cod storm, with three fascinating characters holding steady throughout. Can't wait to share this book with middle grade readers, but I also expect to recommend it to teens and adults who love history, Cape Cod, and family.
The Story
Before I read Beyond the Bright Sea, I already knew I would love it. Mrs. Abbott, Library Teacher at Morse Pond Middle School, snagged my first advanced copy and immediately started raving about it. She was right. The primary characters are captivating, the history is fascinating (especially given that the story is set so close to us), and the plot has the perfect combination of adventure and heart. I know that Beyond the Bright Sea will be a staple book at Eight Cousins for years to come.
This spring Mrs. Abbott started reading the book to her 5th grade book club. She, and the students, loved the book so much, that she applied for an FEF grant and arranged to charter a boat to Cuttyhunk and Pekinese Islands. Pretty awesome, right? It gets better. Mrs. Abbott invited Lauren Wolk to join the adventure -- which she did! On Thursday, May 18, 2017, twelve fifth graders, five chaperones, and one captain spent the day visiting the very real settings of Beyond the Bright Sea, with the author who could point out exactly where on the island her fictional characters lived. We stood on the real hills that, technically not-real, Crow explored. The whole day is such a mash up of reality and fiction that my brain can't quite figure out where one ends and the other begins.
Enjoy the photos! And if you ever have a chance to visit Cuttyhunk, I highly recommend doing so. Be sure to visit the library. Ask for the copy of Beyond the Bright Sea that Lauren Wolk donated while we were there!
The Pictures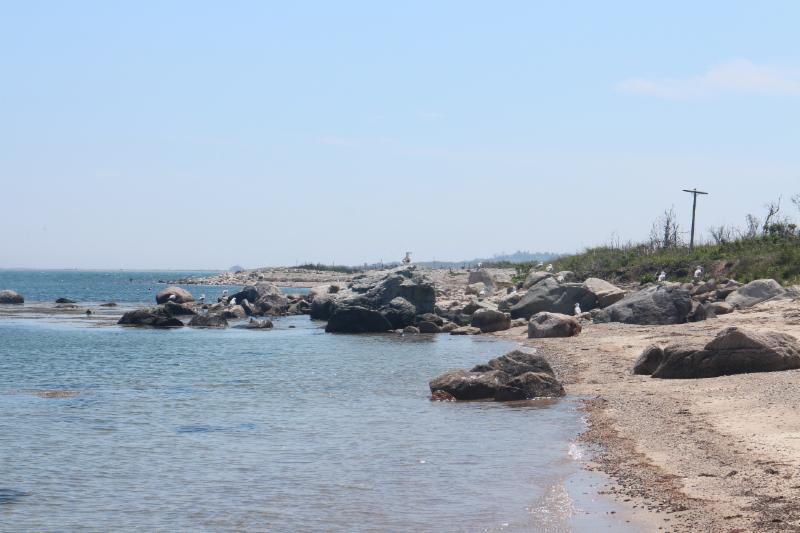 $16.99
ISBN: 9781101994856
Availability: Currently not in store. Available to order. Usually Ships in 1-5 Days
Published: Dutton Books for Young Readers - May 2nd, 2017
---